Our Views
How to save $15,000 a year on private school tuition
As a new parent myself, I know that raising a family is costly. Even more so for families who pay for their children (or grandchildren) to attend private school. For example, at a private school in my Toronto neighbourhood, tuition is roughly $21,000 annually, per child, for grades 1-8, and that is in after-tax dollars!
A simple, yet very effective, tax savings strategy could potentially save a family with two children $15,000 per year by funding private school tuition in pre-tax, versus after-tax, dollars.
Here's how it works…
You would establish a family trust (or use an existing one) in which your minor children or grandchildren are beneficiaries. You then loan an amount to the family trust, say $1,000,000. The loan would be secured by a promissory note bearing interest at 1% (CRA's current prescribed rate).
The family trust invests the loan to earn investment income and capital gains. The family trust pays the 1% interest it owes on the loan to you and distributes the net income to your children/grandchildren, which is taxed in their hands at their lower marginal tax rate.
A family trust is relatively easy to set up and maintain; the loan can be repaid at any time; and the tax savings can be enjoyed to fund private school tuition and other related expenses.
Below is an example to illustrate the savings associated with an income splitting loan to a family trust with two beneficiaries. Using conservative assumptions, this strategy would save approximately $15,050 towards private school tuition in the first year and about $275,000 over 15 years.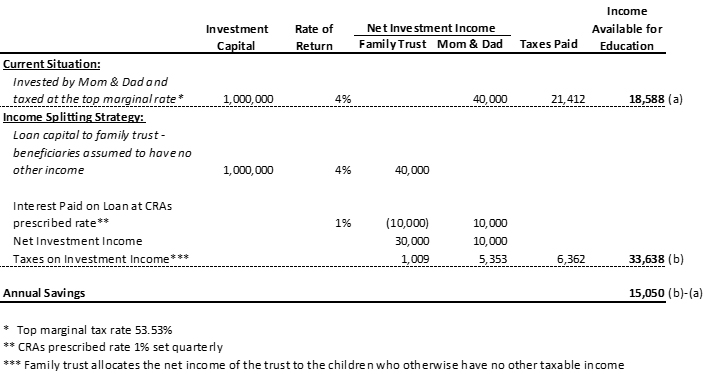 Although interest on the loan is paid annually, the rate is fixed at the time the loan is made. Currently, the CRA prescribed rate is 1% (the lowest ever). We believe interest rates are poised to increase, perhaps as early as next quarter, so time may be running out to maximize the benefits associated with this strategy. Contact us to learn more.
This is one example of how we assist our clients to implement financial strategies to optimize their net worth. Read more about our wealth management approach.
Subscribe to Our Views
*Please refer to our Privacy Policy to find out how we protect your information